According to MICHAEL UNIACKE, Melbourne's recent Flow Festival of deaf arts could turn out to be a milestone moment for Australia's deaf community
YOU KNOW AN ARTS FESTIVAL is going really well when the organisers and volunteers tell you about the various hiccups and stuff ups. One week after Melbourne's Flow Festival of deaf arts, I can't even remember what the drama was all about, so it can't have been much. Somehow that merged perfectly into the impossible question, what is art?
"Art" is one of those words that no-one will ever really manage to define. (So is the word "deaf";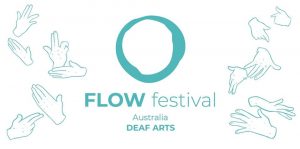 that's a story, or a whole book, for another time.) We could be confident that "expression" and "emotion" do come into what we mean by art. (They come into "deaf", too.) Art has a lot to do with being human. (So does being deaf.) Is there an art to being deaf? Maybe that's why the Flow Festival was set up.
The artist Jaycob Campbell described it as the first deaf arts festival organised, and maybe it was. I have no recollection, nor any sense, of any similar event even though some internal logic tells me there must have been. I've poured over historical material about the lives of people in Melbourne's deaf communities of the previous century, and I struggle to recall anything about artistic expression. There were volumes of material on sport, of course.
From what I saw of the Flow Festival, the art works and performances fell into two broad approaches: those which put deafness, represented by Auslan, at the centre of their work, and those for which deafness just happened to be there. Most were in the first category, and a certain celebration of deafness was never far away. That was not surprising. Auslan, that most intensely visual indicator of deafness, is a good fit for visual media. The artistic possibilities of Auslan, as for example in song and performance, have only just started.
A psychic detective
Of the second category, two works interested me. Ramas McRae's short film "I see, you say" was a striking story about a psychic detective who happened to be deaf. It took place in a police station in which two detectives and the receptionist signed. At times it reminded me of the old education program, a Deaf Deaf World, which reversed the idea that we all live in a hearing world.
Jen Blyth and Kerrie Taylor's bilingual children's book, A visit to the zoo* was a simple and colourful story about just that. The difference was it could be signed – each page illustrated the signs for the simple text. Here was a children's book that cried out to be signed. Of course hearing children and their parents will want to sign it. This was not a book about deafness. It was about a visit to the zoo that cleverly weaved Auslan into that special, sacred act of reading to small children.
BOTH THESE APPROACHES to artistic expression are important. The first is because a deaf arts festival allows a minority group to celebrate that which makes them distinctive. To put it another way, no arts festival organised by hearing people has ever celebrated being able to hear. (Organisers of music festivals might argue with that.)
The second approach is important because a deaf perspective on the world offers something new. If art challenges us to look at the world in a different way, then the Flow Festival offers a lot to the hearing visitor.
This is one of two critical points for the future. Arts festivals are for everyone, deaf arts festivals included. I don't know if anyone kept reliable numbers, but hearing visitors to the Flow Festival, outside of hearing family members, would have been a minority. It's very early days and the next event won't be until 2020, so it needs to build a reputation. While deaf visitors are a given, if future Flow Festivals want to grow and expand, they need to have something to offer hearing people. What will attract them? The quality of the art.
This is the second critical point. For example, I am not going to take a sheet of white A3 paper and a few coloured textas, draw some lines, curves and patterns, and then insist it be displayed as art for the next Flow Festival just because I'm deaf. It's up to the curators and organisers to make sure the art they present has quality, and reaches a standard of excellence that contributes to the feeling and the flow of the festival. In writing, I call it publications standard. I think the Flow Festival achieved this: all that I saw reflected quality, even those works I did not like.
For hearing visitors, the Flow Festival will allow them to glimpse deafness in ways that are inconceivable to them, ways that go far beyond the clichéd view of deafness as a pitiable loss of hearing. Why might deaf artists focus much of their creative drive on deafness? As a writer I have my own answers to that, as will dozens of creative deaf people. Deaf artists willing to discuss their work and their approach will have a massive impact for hearing visitors. That alone makes the prospect of future Flow Festivals enormously exciting.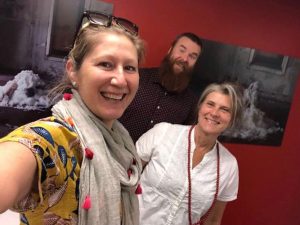 ONE OF THE STRENGTHS of this festival was its interactive feel. Visitors could do things, like joining in the communal painting of a mural of Auslan handshapes, with Jaycob Campbell supervising and encouraging. Douglas Ridoff's exuberant ASL Slam was another obvious example. This interactivity could become the Flow Festival's distinctive signature and its greatest strength. After the significance of sport within the deaf community for so long, the emergence of a regular and lively deaf arts festival could become a milestone.
To Irene Holub, Ramas McRae, and Medina Sumovic: thank you for your foresight, energy and dedication in pulling this together. Thank you for the way you understand the value and place of art in our lives. And for the greetings, the hellos, the incessant chatter, the catch-ups and the laughter, thank you for once again making me feel that Deaf people are my tribe.
*For more about the bilingual children's book, visit Tall Giraffe Publishing on FaceBook, and at www.tallgiraffe.com.au