Artwork: John Veeken www.johnveeken.com
The famous London consulting detective Mr Sherlock Holmes was playing with his revolver in his rooms at 221b Baker street, when it went off with a loud report. Holmes was quite all right, but the experience has left him noticeably deaf. Meanwhile, he is about to meet a new client, the mysterious Sir Henry Baskerville. NOW READ ON . . .
The fortunes of my friend Mr Sherlock Holmes took a remarkable turn when the accidental firing of his revolver affected his hearing, I regret to say, most grievously. I had made perfectly plain to him my firm belief that vigorous handling of firearms was an activity much better suited to outdoors, but naturally he took little heed. Even so I could see that his composure was shaken at the accidental discharge of the gun quite close to his ear, and I did admire the way he accepted and strove to accommodate the more grievous aspects of his affliction. As a medical man, I have attempted, with conspicuous lack of success, to encourage him to take some remedy, or rest, or at the very least, a hearing test. A friend of mine at the Foyle Club is an ear specialist, and Holmes would be in good hands under his care. I have made myself clear to him on numerous occasions, as I have said to him once, I have said to him a thousand times —
"It was seven occasions Watson."
"What was . . . what?"
"It was no more and no less than seven occasions Watson, when you remonstrated with me to take some action with regard to my hearing. You know perfectly well how much I deplore such slipshod generalisations when articulation and the specific are the first principles of study to the student of observation. I expected better of you, Watson."
"What the devil are you on about Holmes?" We both sprawled in our armchairs before a cheery fire in our living room.
"I was following your train of thought. Your covert glances at me, the frowns, your right hand clenched, with fingers in a pointing shape, moving in rhythm to your thoughts. It was not difficult."
"Alright Holmes," I said, with some asperity. "But I think I have made my point. You need to do something about your hearing. How else are you going to communicate with your clients?"
"I have just communicated with you, Watson, have I not?"
"Without a doubt, my dear Holmes, without a doubt."
"Without what? Speak up man, will you."
"I am speaking up. That's just my point."
"Not necessarily."
"Holmes, communication with your clients is of tremendous importance."
"So is observation, Watson. In fact I am convinced that losing some of the faculty of hearing is boosting my powers of observation, considerable as they were to start with."
The detective stood up, extracted one of his Egyptian tailor-mades from his silver cigarette-box on the mantlepiece. He lit up, exhaled luxuriously, and studied me through the smoke.
"In fact," he continued, "I have made a very singular observation to make about you."
"My dear Holmes. Please do not tell me that batching with you in these quarters is about to get worse. Yes, I know you're dying to tell me. What is your latest observation?"
"You have run out of clean underpants."
"What the devil?"
"The ridge line of your underpants is slight but noticeable in your trousers. Underpants worn in the right way have the seam against the skin, and this makes them almost invisible. But reversing the underpants puts the seam line against the trousers, making a slight ridge line that can be detected. Why does a man wear his underpants inside out? Because he has no fresh ones, and he is therefore forced to turn yesterday's pair inside out to ensure maximum freshness and so gain another day's use."
I am a patient man. My war service in Afghanistan, my medical practice in which daily I seek to alleviate human suffering, have put me in many a situation in which my patience has been sorely tried. And so, I have learnt much of the virtue of patience. This revelation about my underpants, however had me struggling.
"Holmes! While I am happy to discuss deafness and would be pleased to investigate ways to alleviate the condition for you, I utterly fail to see the connection between deafness and the state of my underpants."
"The connection between what and what?"
At this point, I knew that a tactical retreat was the best for both of us.
What was noticeable, however, that Holmes' new affliction did not deter a flow of clients to our door, each of them eager for the famous detective to take on their cases, and bring them to some successful conclusion. The news of his deafness must have spread, of course, and I daresay there was perhaps some rejoicing among the criminal classes. Surely, I would be on much safer ground by referring to an imminent visitor?
"Sir Henry Baskerville, of Baskerville Hall, has I believe some matters to raise with you."
"Make a long arm Watson, and hand me my Index. Basketball refers to an American game, I believe, involving five players in each of two teams on a court and the throwing of a ball through a hoop."
"No Holmes. It's Baskerville. BaskerVILLE."
Once I had became aware of the extent of Holmes' affliction I had vowed I would not shout at him. But at times like this I could not help myself.
"Don't shout at me Watson. I'm doing my best. So you are now referring to a village in which I presume the inhabitants play the American game of basketball? These Americans. They're getting around everywhere."
"My dear Holmes. You really should think about getting an ear trumpet."
"The fair sex is your department Watson. I have no quarrel with women who lead a life different from the common. It would not be an unreasonable deduction for such women to indulge in a game of basketball."
"Holmes. What the devil are you going on about?"
"Precisely what I said. As much as I value your observations, they are singularly lacking in the precise articulation of which the student of observation demands. You used a poor form of expression for women who may well follow the beat of a different drum. You may well have been referring to women who are freethinkers or radicals, but your chosen word lacked clarity, hence my reference to the fair sex to encompass all kinds of women."
"My dear Holmes! I only suggested you get an ear trumpet. A TRUMPET!"
"A trumpet? I thought you said a strumpet. It's the higher-pitched syllables, Watson, which are giving me the devil. At times I overcompensate."
At that precise moment, Mrs Hudson knocked and announced afternoon tea for us gentlemen, and would we fancy some hot buttered crumpets? I looked sharply at Holmes. The great detective and lover of theatrics could hardly have engineered it better. Even he could see the amusement.
"The redoubtable Mrs Hudson has excelled herself again. Her offer to arrange some hot strumpets to join us for afternoon tea is significantly out of the ordinary." There was a gleam in his eye, and I could not help but laugh.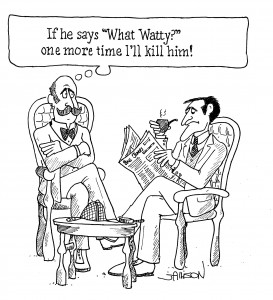 Editor's note: Mr Holmes and Dr Watson are taking a while to resolve their differences, and the redoubtable Sir Henry Baskerville has yet to make an appearance. The great detective and his loyal companion have been counselled on the need to meet the readers' expectations of meeting Sir Henry and of learning of the strange goings-on at Baskerville Hall. To Holmes' credit, he now understands the differences between the ancestral seat of the Baskervilles and the American game of basketball, and we promise not too-long a wait to bring to you the next episode in "The Hound of the BaskerWhat?"
Meanwhile, next time we read about how the boy wizard copes with being deaf in Harry Potter and the What of Whats?