In the end, not all that much, other than perhaps a cautionary tale of failing to understand your market.
---
This is the advertising poster placed by the audiological services firm, Victorian Hearing, at the end of May 2015. It shows a startling picture of a profile of a woman with a prawn perched above her ear.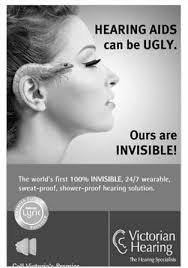 Let's leave out the text for a moment and concentrate only on the image. You are gazing at a woman with a prawn on her ear. You are of course wondering, how on earth did it get there? The only explanation I can think of is that after several cocktails during a big night out with friends, this particular woman thought it would be hilarious to use a bit of the prawn salad to see what a crustacean ear-ring might look like.
That's why the text is essential, to leave us in no doubt that the prawn is meant to represent an ugly hearing aid. The problem is that one would not normally associate a prawn with a hearing aid. A possible exception might be a group of drunken audiologists contemplating a nice dish of garlic prawns. Which just might be how this particular advertisement came about.
The trouble is, prawns are themselves not "ugly". Mind you, it's possible that if you asked a prawn itself what it thinks of humans, it might say they look hideous. But apart from being delicious to eat, prawns are a vital part of the ocean's food chain. If the advertising whiz-kids or the drunken audiologists who dreamt this up really wanted to make an impact (and they have – for all the wrong reasons), they would have used an oversized leech. The prawn idea was just too clever-dick.
But what is more relevant is the claim that "our" hearing aids are invisible. Meaning, our hearing aids are ugly but you can't see them, so they're alright. Meaning, if you need a hearing aid you'd better hide it because it's ugly. Meaning, it's far better if no-one ever knows that you need a hearing aid.
Hearing-aid companies have always traded on the invisibility of hearing aids. They do this because they are in a gentle conspiracy with the majority of their older clients. These are people who were born hearing and who grew up hearing. They are people who are distressed at the effect of increasing hearing loss as they grew older, and who wish to have a semblance of normal hearing-ness restored to them. Of course the idea of an invisible hearing aid would appeal. That was the kernel of the company's defence to a complaint registered with the Advertising Standards Board.
However there was a furious backlash from parents of deaf kids with hearing aids; these are parents who know all about the struggle to get their children to wear the things. But Victorian Hearing, in their response to complaints, insisted that they do not provide audiological services to children, and furthermore, the ad was not directed at children. And that was precisely the rub. It did not occur to the company that the words HEARING AIDS next to the prawn was the inescapable link. Deaf children do wear hearing aids. And as parents have pointed out, children would be vulnerable to their hearing aids described in offensive terms. The company's defence that it does not sell to children also means it has little idea of the complex relationship deaf people have with their hearing aids.
The company failed to recognise the larger picture. Calling hearing aids "ugly" is an odd approach for a company that is in the business of selling the things. Can you imagine a brewery describing its beer as "tasteless"?
At one point in its defence, the company said its research revealed that one in six people suffer a hearing loss. That particular statistic is not hard to find. A cleverer audiological company would look beyond this figure. Wider research would reveal there are diverse attitudes towards hearing loss. Yes, a lot of people do not like hearing aids, and would agree they "suffer" from deafness. Equally, a lot of people with hearing aids think differently about them, and about being deaf.
Deafness is a bit too subtle for Victorian Hearing. There are many people in this world with vastly more experience in using and wearing hearing aids than those who make, fit and sell them.
The Association of Independent Audiologists has scolded Victorian Hearing. It has now apologised and withdrawn the ad. In terms of damage control, that was the best thing to do.
In the end, I am not sure that the prawn represents anything in particular. It was merely a heavy-handed attempt to be clever, one that was fuelled by a shallow reading of research and a lack of appreciation of the wider complexities of how deaf and hearing-impaired people regard their hearing devices. At the very least, I would hope Victorian Hearing realises what it can gain by learning to appreciate the considerable experiences of the very people who use their products.