In the Garden of Eden, Adam and Eve were prancing about happily, when Adam tripped on a root and banged his head on a tree trunk. He was quite alright, but became noticeably deaf. Meanwhile Eve has met a chatty serpent who is talking to her about delicious-looking peach hanging from a forbidden fruit tree. NOW READ ON . . .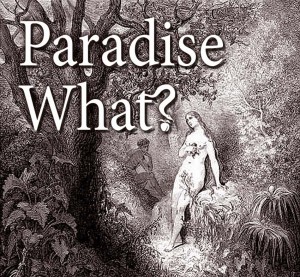 In the bright morning of the Earth, the sun beamed down on the lush Garden of Eden. It shone on the serpent, its scales sparkled dark green and dulled gold. It was coiled around a thick branch of a peach tree, its head raised comfortably, its glittering black eyes fixed upon Eve, who returned its stare.
"So you're saying," she said, "if I take a bite out of that peach on the bough up there, I will know everything there is to know?" She tossed her long braided hair, folded her arms and stood defiant. One did not become the Earth's first woman without a certain attitude and sang-froid. Beside her, Adam looked at the serpent, then to Eve, and back to the serpent again.
"But madame, of courssse." The serpent spoke in a high-pitched sibilant whine that was oddly persuasive. It eased itself up, scratched its head underneath another branch that hung low, and sighed with satisfaction.
"What'd it say?"
"Do I have to repeat everything?" Eve turned to Adam. "Couldn't you at least try and lipread?
"Lipread? Lipread a bloody snake? Are you serious?"
"I'm just trying to be constructive," snapped Eve.
"You are serious. Jesus," he muttered.
"That's enough," thundered a voice from the sky. "I've told you before not to take the name of my future Son in vain."
"That was him, not me," shouted Eve, looking up and pointing to Adam.
"And now I'm expected to lipread some disembodied deity," Adam shouted back. "Unbelievable."
Eve turned to a new sound coming from the peach tree. It was the serpent, which appeared to be making strange mewing and hiccupping noises.
"I think it's laughing," she said. "Anyway, it was suggesting I should take that peach from that branch."
"Breach in your pants? But it doesn't make sense. You don't have any pants on. How can you possibly -"
"PEACH from that BRANCH."
"Ok Eve, Ok. Now, firstly, we have a talking snake. Secondly, it's quite interested in the fact you're not wearing any pants. Thirdly, it wants you to take that peach. And you think I've got problems," shouted Adam, who lapsed into furious silence.
Eve turned to the serpent. "Listen mate, God said we weren't allowed. And fair enough. We've got all the rest of this garden."
"Oh madame, that is, how you say, beaucoup de crap. He think He know everythink."
"Well He probably does." She turned to Adam.
"Look I'm sorry. I'm trying to work something out. Just don't do anything with that peach."
Adam's stomach rumbled. "Well, why not? I could make some Peach Melba for dinner."
"Madame," hissed the serpent. "Un dessert delectable pour you et monsieur. Un idea plus exseellent."
"Just shut up a moment," flared Eve. Above them, in the clear blue sky, rumbled a strange thunder.
"Madame, mine apologies, most 'umble."
Eve gazed up at the peach. "It does look nice," she said.
"Indeed madame. La peach. So sweet. So delectable. So like madame's derriere, no?"
"What's it saying?" Adam peered up at the snake.
"Something about my bottom, I think."
"About your what?" Adam's voice shrilled high. "Your WHAT?"
"Look, it doesn't matter."
Adam glared at her, and stomped off through the ferns.
"Dear God," muttered Eve.
"Now what," thundered the voice.
"Can't you, like, make him undeaf?" Eve looked up, herked her thumb in the direction where Adam disappeared.
"No can do. Sorry."
"But you can do everything, can't you?"
"Yes I can," rumbled God, "but I won't. Look girlie, sure, I created night and the day," He continued. "The angels. The beasts in the fields, the fishes in the sea. You two. I made the earth, too, all those fjords I did in Scandinavia were pretty good. Look, I worked bloody hard, six whole days and nights and I didn't stop once, not even for a smoke, and a fat lot of thanks I get for it. So compared with all that, yes, I will say that fixing Adam's hearing would be a doddle. But no. I will not do it."
"Why not?"
"Because I'm in a foul mood. And because this is about fate, girlie. Free will. You decide. Ain't nothing to do with me. Shit happens, you know. Hardly my fault if it does."
"That's not fair. And don't call me girlie."
She stomped, found a log, sat down and glared at nothing in particular. Meanwhile, Adam made his way back to the peach tree. He reached up, pulled off the fine-looking peach, examined it closely, and bit into it. He chewed a while and smiled, a trickle of peach juice dribbling down his chin. He looked around and found Eve on the log.
"Hey Eve babe," he called holding out the half-bitten peach. "This is pretty good."
"Adam, NO," Eve shrieked. "You weren't supposed to – I clearly and expressly said to you Do – Not – Touch – That – Peach."
"Peach? Peach? So now you tell me," shouted Adam. "Thank you Eve. Thank you very much. I just thought you were saying something weird about doughnuts and speeches, look I just assumed this was something you were working on with God, stuff like, maybe you were gonna be writing His speeches, you're always talking to Him and do you ever tell me what's going on? Oh no, course not . . . "
"Adam you idiot. Writing hasn't been invented yet."
Adam's eyes grew wide. He speared a finger in Eve's face. "Don't you ever," he sputtered, "don't you EVER call me an idiot."
From behind them, the mewing and hiccupping started again. Eve whirled around.
"Oh shut up. Dear God, what's going to happen now?" Eve wailed.
"Some pretty heavy shit," muttered God, in a stern, brassy rumble. "That's what's going to happen now."
The sun disappeared behind ominous billowing blue-black clouds. A crack of thunder rent the air.
Eve turned back to the serpent. "This is all your bloody fault."
"Madame? My fault? Mais non, non," the serpent hissed. "La peach, most delicious she is, no?"
Its fangs glittered in the gloom. "And now, madame shall know everythink."
A pinpoint of light appeared in front of them. Adam and Eve stepped back as it grew and grew, terrible in its brightness. It took the shape of a warrior angel, with a flaming sword. It glared and pointed its sword at them. Adam dropped the peach and clutched at Eve.
"Thou hast partaken of the tree of knowledge, concerning which I charged thee, thou shalt not eat thereoff, but ye didst. Curst is the ground for thy sake, many be the thorns and thistles it shalt bring forth to prick thy feets. In pain thou shalt bear children. Begone from here, ye accursed."
"Look here mate," shouted Eve, "I didn't do it. Adam didn't hear you. He didn't know we weren't supposed to touch no peach, and, and it's discrimination or something. Against the disabled. We can't be blamed for that."
The warrior angel grew higher, shone more terribly, and sparks spat from its sword.
"Well?" Eve pointed to the angel. "C'mon mate. You deaf or something?"
"What'd it say? What do we have to do?"
"Shit Adam. Shit. Shit. Shit."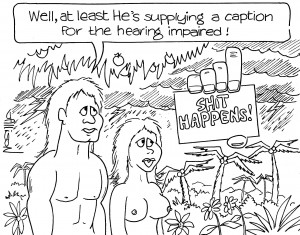 Next time: The famous London consulting detective, Mr Sherlock Holmes, copes with being deaf in The Hound of the BaskerWhat?